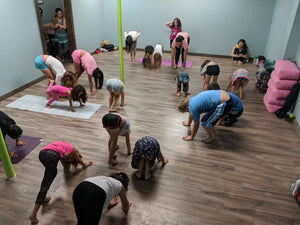 Kids Yoga Club (ages 3-8)
The Kids Yoga Club is all about having fun and connecting with each other by doing simple breathing exercises and fun yoga poses. This class offers a complete age appropriate yoga practice that incorporates the use of games, music and activities, so children have the opportunity and space for self expression. As they strengthen their bodies and their connections to mindfulness, body awareness and breathing techniques, they will release energy, learn how to relax and develop emotional and self calming tools.
This class is suitable for kids aged 3-8.
(participants must be potty trained to attend)
Parents are encouraged to leave so kids can explore.
 Pre-registration is required.
4 week series - $60 +HST
8 week series - $104 +HST