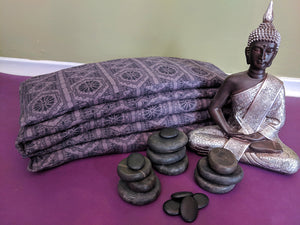 Tranquil Bliss Restorative Afternoon
Sunday, October 22 2023
2:00pm-3:30pm

Register here
Workshop Investment $40.00 +HST
Monthly members investment $30.00 +HST
(call Tracey to secure your spot) 
       Spaces are limited and pre-registration is required.
You can sign up online or call Tracey (705-321-2545) to reserve your spot!
Join us for 90 minutes of ultimate self care and deep relaxation in this restorative yoga practice where we will be using hot stones and heated props to relax the mind and body!
Show yourself some love and take your restorative practice to the next level with the addition of hot Basalt stones, heated rice bags and essential oils.
Using props such as bolsters, blocks and cozy blankets to support your body in long held, luxurious poses, this practice is designed to dial-down our daily stress by triggering the parasympathetic nervous system and activate the body's relaxation response.
As you settle and relax into the poses, heated basalt stones and rice bags are gently placed on the body to melt away tension and soothe tight muscles. The focus is on allowing you to better connect to your body, deepening your practice, and promoting a nourishing physical and mental state. All of this, along with guided meditation and breathe work will leave you feeling entirely nurtured, rejuvenated and renewed!!