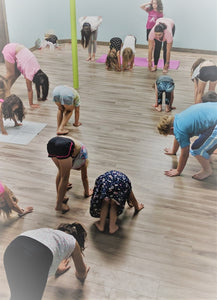 KIDS YOGA & MOVIE
Thursday August 22, 2019
2 PM - 4 PM
$2.00 donation per child
Register here!
Bring the family down to the studio for an upbeat yoga class and a movie on the big screen! Snacks provided!
(this is a donation based event $2.00 per child with all proceeds going to the Innisfil Food Bank AND pre-registration is required)
We will also be accepting new, back to school items (pens, pencils, binders, markers, crayons, pencil crayons, erasers, pencils sharpeners, exercise books, construction paper, highlighters, glue sticks, pencil cases notebooks and report covers) at the door if you feel called to donate. 
You can book online, email tracey@tanquilyoga.ca or call 705-321-2545 to reserve your child/children's spots)